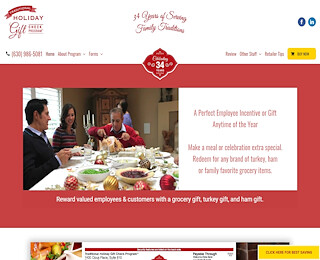 Let Holiday Gift Check program help you choose the right Butterball gift check program for everyone on your Christmas gift list this year- our vouchers are an affordable way to give a gift of food to family and friends. If you need a fresh idea this year, spend a few moments on our website looking into our gift checks and see why we are the best choice for gift-giving this holiday season. Our program is the best-of-its-kind on the Web for several reasons:
We buy back all unused Butterball gift certificates
We are a reputable Holiday gift check program
We personalize your checks to make recipients feel special
Our vouchers are redeemable across the US
Holiday Gift Check program fits all budgets
Ham and Turkey Gift Checks Available
One of the most popular aspects of our program is that your friends and family can use our vouchers for Butterball Turkeys, Honey Baked hams, and groceries to prepare their favorite side dishes and dessert. Our customers tell us how much they appreciate the customizable features available when filling out their checks, allowing them to personalize each gift as desired. Everyone loves to gather at the table at Thanksgiving and Christmas Day, and your gift will be long remembered by everyone who receives one of our checks.
Affordable Gifts Certificates For Butterball Turkeys
Is there any brand more recognizable than the name Butterball? Just hearing the name brings to mind mouth-watering slices of turkey breast with the juices still intact. Now it's possible to send our beautiful gift checks your friends, family, clients, co-workers, and employees can use to purchase their holiday Butterball turkey or ham. Choose any dollar amount, up to $50 per recipient, personalize each check, and we'll get them in the mail in plenty of time for you to wrap them or include them with your Christmas cards.
The Best Butterball Gift Check Program Around
Many turkey gift certificates are redeemable only at select grocery stores- ours can be used in any US grocery location, and to ensure each certificate is fully redeemed, recipients can purchase more than the voucher amount and simply pay the difference with cash or a credit/debit card. See how beautiful our checks are when you click the 'About Program' link on our homepage- we're confident you will be thoroughly pleased with our checks and the feedback you receive from your gifts.
Consider the Benefits of Our Butterball Gift Check Program
Online ordering- it takes just a few clicks to complete your order
Mail in, email, or fax your order, if preferred
Select from US or Canadian vouchers
Add your company name for free
Add recipients' names for just .10 each
Our checks are always well-received
Optional restrictions available to prevent using for tobacco or alcohol
Quantity discounts available
No-fee over-purchase returns
Our gift certificates are easy to redeem, as well; use to purchase turkey, ham, groceries, pumpkin pies, and much more. Feel free to contact our staff at Holiday Gift Check program with any questions; you can reach our customer service team at 630-986-5081.
Holiday Gift Check Program
+1 630-986-5081
1400 Opus Place
Downers Grove
IL
60515
US