If you have a couple of gold coins laying around your house and are thinking about what to do with them, selling is a great option. If you are considering doing so but are unsure about the process, continue to read things you need to know when selling your gold coins: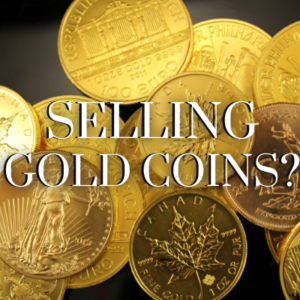 The particular type of coin in your hands will affect the profit you will make. Coins that are particularly profitable are rare gold coins, such as US, Mexican, and Canadian coins. American Eagle coins are especially popular and appreciated, as they are pure and usually simple to sell and buy.
The final sale value of the coin will depend on numerous factors, these include the grade, mintage, and year of issue. The grade means the condition of a coin. A better condition means a higher value. Mintage refers to the number of specific coins that have been produced. That means, if fewer coins were produced of that type, it is considered rarer and therefore more collectible. Finally, we look at the issue year which tells us how old the coin is.
Remember that an older gold coin won't necessarily mean it will be of higher value than a newer coin. If the older coin is in not-so-great condition, the newer coin will have a higher selling price. Price is heavily affected by the condition of the coin.
Examples of places where you can sell your gold coins are jewelry buyers and pawn shops. Unlimited buyers in New York is a great place to sell your gold coins. We buy many different types of gold coins, such as PCGS coins, Eagles, Classic Coins, etc.
When selling to Unlimited buyers, we make the experience of selling your gold coins informative, safe, private, and profitable for you. If you aren't completely sure your particular coin can be sold, you can always give us a call at 212-764-6725 to speak with an appraiser.