If you ever thought about selling your jewelry but you don't know where to go, a pawn shop is one of the best options. It is a quick way to make money, and you can sell many different types of jewelry.
If you are hesitant in going because the process may seem a bit intimidating, here we will explain the simple process of using a pawn shop to get a loan on your jewelry: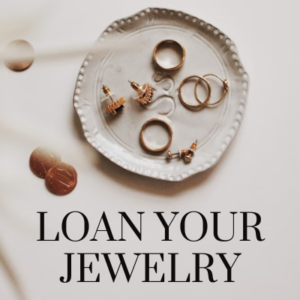 When you bring your jewelry piece in, a pawnbroker will figure out its value. Depending on the shop, they may use modern technology to find the most updated and accurate price for your jewelry item. Karat weight, rarity, and condition of the item play roles in the ultimate price of the item.
Once the value has been figured out they may provide you a fixed-rate loan, based on the value that has been agreed to. If the offer has been accepted, you will receive the amount of cash agreed upon. The jewelry item is now collateral against the loan.
Once the agreement has been determined, you will receive a pawn ticket which includes your name, a description of the item you provided, as well as the loan amount, and the date of maturity.
You will be required to pay back the loan amount plus any interest. Eventually, once the loan has been paid in full, you will get your item back.
Pawn shop loans are great and appeal to people that have an unsatisfactory credit score and aren't able to take out a traditional loan. Also, if you don't have a bank account or aren't able to attain a cosigner, pawn shops are an ideal option for you.
Unlimited buyers is an excellent place to turn to when loaning or selling your jewelry pieces. We have the latest technology to offer you the best and the most current price available for your piece. Get an offer now at 646-760-6247.