Thinking of selling your jewelry? Good choice. Selling jewelry is an easy way to make fast cash. Although you may be wondering, what exact type of jewelry do you have on your hands?
When it comes to selling your jewelry, there are three main types you can sell. Here are the differences between Antique, Vintage, and Estate jewelry: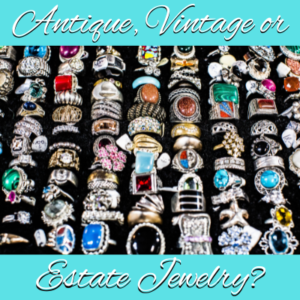 Antique Jewelry
In order for a piece of jewelry to be considered antique, it must be at least 100 years old. As of writing this, the piece would have to be made from 1922 and before. These pieces can be from many different Eras, such as the Victorian, Georgian, Edwardian, and Art Deco. 
Vintage Jewelry
This type of jewelry is a "younger category" to its older counterpart. To be considered Vintage, a piece has to be at least 20 years old. It is sort of like the middle ground between antique and newly bought items. 
Although, in more accurate terms, vintage refers to a piece that contains elements that accurately represent the style of the time it was made. 
Estate Jewelry
Even though the word "estate" may sound like fancy and high-end pieces, it actually means a piece that has been previously owned. Estate jewelry can be anything from previously owned is vintage, antique, or even costume jewelry!
Estate jewelry is often sold after a loved one or elder passes away. Estate jewelry is often labeled with words, such as "collectible" or "one of a kind".
Here at unlimited buyers, we purchase antique and estate jewelry pieces. We have unlimited funds and therefore are able to purchase entire estates and collections. If you have jewelry laying around your house you can liquidate it with us. We offer the best prices and you can make a great profit from it.